News
VARIETY FARE BLOWS IN WITH NORTH WIND
Elia Maria Peter 
Like a good drink, North Wind is a restaurant that is best enjoyed after the sun has gone home. The roof garden eatery, which gets busiest after 7pm, is a haven for all foodies. Although its most faithful customers will swear by the authentic Coorgi food that is available on order, every other cuisine on the menu is just as tantalising to your taste buds, especially if you are a hard-core carnivore.
The menu features a mind-boggling variety of food, and a first timer will soon face the mammoth task of choosing from the plethora of options.Chinese, South Indian, North Indian, biriyani, sandwiches and soups you name it and its available ! The predominantly nonvegetarian menu is truly every true-blooded non-veggies dream come true.
If you are visiting North Wind for the first time,it would be sacrilege to not try their Coorgi cuisine.Authentic,wellcooked and just plain mouthwatering,this restaurant does full justice to the land that gave us Pandi Curry.The most popular item on the menu is the Pork Fry,a dry dish thats a little on the spicy side.An excellent starter,its a must-try,especially for anybody from Coorg whos missing home.
The Chicken Masala is another dish that brings back memories of home on the hills,and those of you who arent natives of that beautiful land will find yourselves just as enamoured of the spicy dish thats bursting with flavour.The Pandi Curry is one of their star items perfectly homely and tasty! Its just as good as the one my mom makes, claims Vikitha Bojamma,a student.Also available are various types of mutton and fish dishes.
Vegetarians need not heave a sigh of disappointment at missing out on a place as wonderful as this.The vegetarian food is just as mind melting as its non-veg counterpart.
The Chilly Potato is a good starter,although those of you who cannot handle spice should keep away.The Chilli Egg is an ingenious dish that promises to make even
the most ardent hater of eggs convert.
The Mushroom Masala and Palak Paneer are good choices the paneer literally melts in your mouth before you can chew it.
I havent enjoyed food this good at any other restaurant in our city its worth every rupee, beams Afsha Khan,a definite foodie.
The roof garden is airy,well-lit and surprisingly,does not play music.My customers are happier with no annoying music playing in the background.
They can have a conversation with no interference! says Ravi Uthaiah,the owner.The crowd is mixed from the 20-year-old student with his boisterous friends to the 40-year-old family man to the retired 65-year-old and his cronies,this place definitely is age-nobar ! Most of my customers are regulars whove been coming for years, said Ravi thoughtfully,when asked about how often people come back.An inevitable answer,considering North Wind has been running for 25 years now.Also worth mentioning is the ample parking space available exclusively for customers.North Wind also offers catering services;food like paaputtu and kadumputtu,which are typical Coorgi rice preparations,are available only with this service.This weekend,if you cant go to Coorg,North Wind will bring it to you!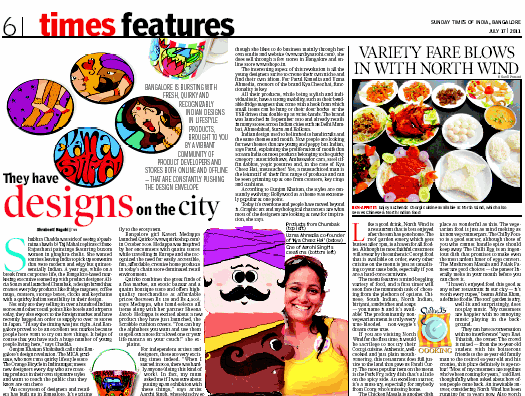 BON-APPETIT : Enjoy authentic Coorgi cuisine available at North Wind,which also serves Chinese & North Indian food